New and Noteworthy
2012-09-25 20:31
Hi all,
I'm not the most frequent blogger these days… but what the h..ck. Now to the news.
RoadMovie 2.5 is mentioned in the "New and Noteworthy" section on the front page of Mac App Store! Happy about that, and thx to all you customers for your input and support!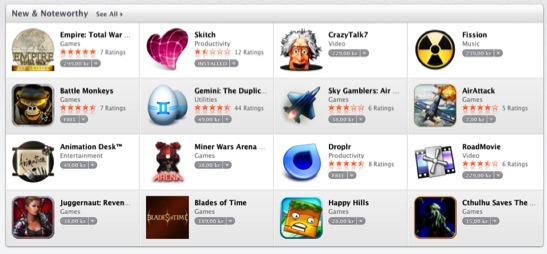 Apple has had a really, really bad period when it comes to
reviewing apps for the Mac App Store
. All my mac apps have now been "Waiting for review" for over a month?!?! I guess Apple has moved some resources to their iOS App Store Review team to focus on reviewing iOS apps for iOS 6 and the iPhone 5. It's a shame they abandon OS X for this reason. I recon they have the money and resources to hire people to review mac apps as well. Shame on you Apple.
It's also a delicate and hard time for us 3'rd party developers with the introduction of the sandbox. A lot of bugs in my apps is related to this new "feature". We don't have the luxury like Apple has to invent new entitlements that lets us read/write the entire hard drive for example (read Aperture). Very few Apple apps is struggling with the same problems as they can "invent" their own entitlements. My message to Apple is… eat your own dog food and comply to the rules you set up for everybody else.
Well, enough complaining. Life is good, anyway.
Best regards / Jörgen