I have purchased one of your apps from the Mac App Store but it still asks for a serial?
- Apps purchased from the Mac App store doesn't require a license key. You are probably using a demo-version you downloaded from this site.
- Remove all demo versions of the app from your disk and download the version you purchased from the Mac App Store app. It will not ask you for a serial.

I have purchased a serial number but it doesn't activate?
- Make sure you copy and paste the serial number from the order confirmation e-mail (don't try to type it using your keyboard).
- Include the complete serial (including the roadmovie-, subm- prefix)
- Repair your hard drive permissions using Disk Utility in the Application->Utilities folder.
- Make sure you have write permissions on the folder Library->Application Support->MindVision.
- Make sure you are connected to the internet and that your firewall is not stopping the traffic from eSellerate.
More info at the
eSellerate Support Center
.
It still doesn't work
- Update the eSellerate framework by
downloading the eSellerate Engine Updater for Mac OS X
.
- Run the installer when downloaded.
- When you're done, re-launch your software and give the activation another try.
Still no luck
- Send an email to
support@esellerate.net
, they will be able to help you.
I've lost my serial number. How do I get it back?
- Just go to the
eSellerate Support Center
and follow the instructions.
How do I add subtitle search templates in RoadMovie and iSubtitle?
- Under Preferences… you can add subtitle search templates. Find your favorite subtitle site and make a search. Copy the URL from your browser and replace the Search Term with a %@. For example a search template for swesub.nu would look like
http://swesub.nu/?s=%@.


After upgrading to OS X 10.8 Mountain Lion I don't have any sound on some .avi and .mkv files? Why?
The problem is related to Perian and AC3 audio. It seems like there's a problem with the A52Codec.component that is part of Perian. Fortunately there's an easy fix.

First install the latest version of Perian.

Download and unzip this A52Codec.component. Put in in your home/Library/Audio/Plug-ins/Components/ folder replacing the old one.





In Mountain Lion you go to your Library folder by holding down the alt-key on your keyboard and select Go->Library on the main menu.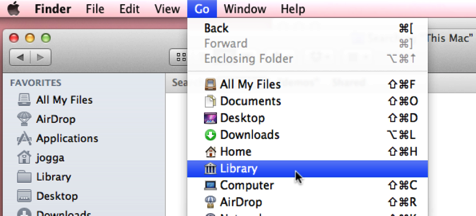 Or select the "Go" menu and "Go to folder…" and copy and paste the following line and hit Go.

~/Library/Audio/Plug-ins/Components/