RoadMovie 2.7.3.1
2015-01-12 20:05
- The TV Show metadata field description now shows episode information.
- Automatically fetching new metadata when selecting an alternate title.
- New icon.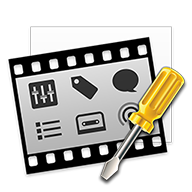 RoadMovie 2.7.3
2015-01-10 14:53
- Now using themoviedb.org for both Movie and TV Show metadata.
- More metadata for TV shows, like actors, genre and so on.
- Many export presets have been adjusted to produce smaller files.
- New 1080p export presets for Web.

RoadMovie 2.7.2
2014-11-12 14:53
- Various fixes and UI updates for Yosemite.
- Improved metadata search.

RoadMovie 2.7.1
2014-09-22 10:48
- Setting a default export Preset in Preferences now works as expected.
- Fixed a bug where the Destination popup would contain several seperators.
- iTunes icon now flipped correctly on the Destinations popup.
RoadMovie 2.7
2014-07-09 18:35
- Apple export presets greatly simplifed.
- Now supports iTunes description metadata with more than 256 characters.
- New export presets for Xbox 360 and Xbox One.
- Pass through presets moved to it's own preset group.
- Generic presets renamed to Mobile.
- Hardcoded subtitles for right-to-left languages like Hebrew now renders correctly.
- Fixed a HTML parsing bug for SRT subtitles.