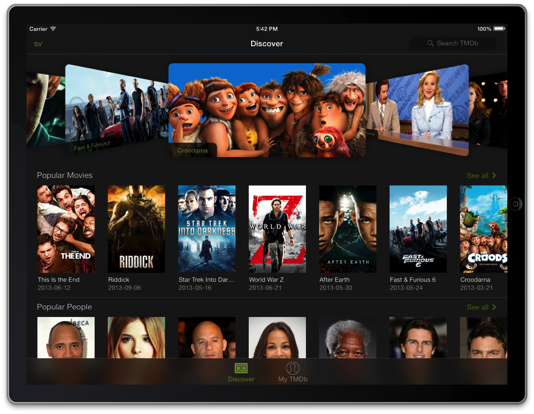 - Discover Popular, Now Playing and Top Rated movies.
- Get detailed information about Movies, Cast and Crew.
- Find similar movies and movies related to a certain actor.
- Watch movie trailers inline.
- Share using Twitter, Facebook, Mail or Messages.
- Print, Save to Camera Roll and Copy supported.
- Free text search TMDb for Movies and Persons.
- Handle your TMDb Favorites and Watchlist from within the app.
- Rate movies when logged in to TMDb.
- Fully supports the TMDb 3.0 API.
- Get an account at themoviedb.org or from within the app. It's free.
- iOS 6 savvy.
- Support for iPhone 5.
Donations for the moviedb.org
themoviedb.org is not a business and as such they rely heavily on support from their users. Please consider donating anything you can to the project by following the link below. $5 or $50, every penny goes straight back into making themoviedb site better. Donate at:

What about the name, Cineast?
From the dictionary:
Cineast (also cinéaste or cineaste), noun
A filmmaker or an enthusiast or devotee of movies or filmmaking.
Localization
Cineast is currently available in English, Swedish. If you would like to localize Cineast please send us a mail at
[email protected]
and we will send you the needed files. It's really easy. You only need a text editor to do the work.



Support
If you have any questions, problems or anything else you would like to share, please contact us at
[email protected]
.