Subtitled movies for all your needs...
With Submerge you can easily add hardcoded subtitles to your movies and tv-shows. The subtitled movie will play on almost anything, like your computer, smartphone, portable device or game console. Submerge supports many text-based subtitle formats as input and you can export the subtitled movie for the most common devices in just one click. Submerge also has a built-in subtitle search and download tool that makes finding the right subtitles really easy. It also has a fullscreen player built-in, so you can watch the subtitled movie directly within Submerge. All this at the unbeatable price of $9.

How does it work
Submerge makes all this possible by merging subtitle files with your existing movie files. The result is a file with video, sound and subtitles happily living together.
If you're looking for soft subtitles for your Apple gear, like the iPhone/iPod Touch or Apple TV, you should have a look at
iSubtitle
.
Main Features
- Create subtitled movies that are playable on your computer, smartphone, portable device or game console.
- Add subtitles to almost any visual format like mov, avi, mkv, mp4 etc.
- Supports the major subtitle file formats like SubRip (.srt), SubViewer 1 & 2 (.sub), SubStation Alpha (.ssa/.ass) and MicroDVD.
- Find subtitle files easily using the built-in subtitle search tool.
- FFMPEG encoding for super-fast exports (
NEW
in 2.1)
- Exporter presets for iPhone, iPod, iPad, Apple TV, Cellphone, PSP, PS3, Wii and Xbox 360.
- Force aspect ratio to 16:9, 4:3 or 3:2 to use your monitor space more efficiently.
- Watch subtitled movies in fullscreen without leaving the application.
- Merge multiple movies together using simple copy and paste.
- Localized in English, Italian, French, Finnish, Spanish, Greek, Portuguese/Brazilian, Dutch, German, Slovak, Russian, Polish, Traditional/Simplified Chinese and Swedish.
NOTE!
Submerge cannot add hardcoded subtitles to movies or tv-shows purchased or rented in the iTunes store due to DRM protection.
Localizations
• Italian localization by Vella Bruno, www.pyxart.it/macsw)
• French localization by Ronald Leroux
• Finnish localization by Arto Vartiainen
• Spanish localization by Clapp!, http://clappin.net
• Dutch localization by Lex van der Helm
• Portuguese/Brazilian localization by Fabio Roselet
• Greek localization by Evripidis Argyropoulos
• German localization by Enrico Richter
• Slovak localization by Martin Vyrostko
• Russian localization by Slavyshensky Alexandr.
• Traditional Chinese localization by Ayee.
• Simplified Chinese localization by Dr. Lee.
• Danish localization by Elias Krause.
• Polish localization Robert Dyro.
• Swedish localization by me, myself and I.













Tweak them subtitles
Use the settings drawer to control everything.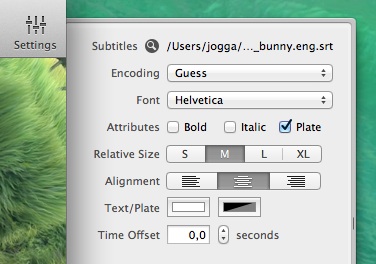 The Inspector
Get all kinds of info about what's under the hood in your movie.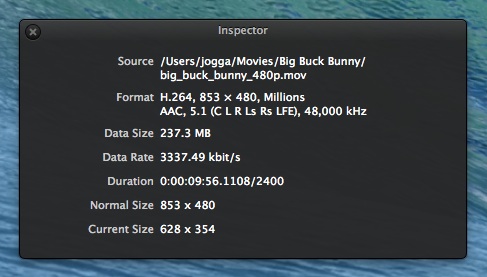 Use the Movie Controller
Functions from the left;
Rewind, Play/Pause, Forward, Volume, Current Time, Scrubber, Time Left.

When you press the Option (Alt) key on your keyboard;
Goto Beginning, Play, Goto End, Volume, Current Time, Scrubber, Time Left.
The movie controller works exactly the same in fullscreen except that you will have the Exit Fullscreen button to the far right. You can also exit fullscreen by pressing the esc button on your keyboard.

Want to learn more?
Just watch the
Quick Start Movie
to learn how Submerge works or just download the demo and try it out yourself. You can also get useful information on our
support pages
.
Even more features
If you need even more features, like batch encoding and server uploading, take a look at
RoadMovie
and learn about
the differences between our apps
.