Organize, Watch & Share all your movies

MovieGallery takes care of all your movies in a powerful and easy way. Just drag and drop to organize. Create playlists and watch movies in full-screen. Publish and share your movies on the web and on mobile phones with playlists, preview thumbnails, information and everything intact, in just a few simple steps. You can even work with multiple galleries simultaneously. In contradiction to almost all other shoe-box applications MovieGallery is designed as a document-based application.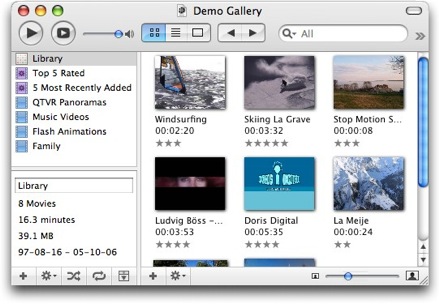 Organize

MovieGallery let's you organize your movies in a familiar way. Drag and drop to create playlists. Create smart playlists from almost any criterion you like. Fine-tune your previews by choosing any image or frame from the movie to use as a thumbnail. Add information about the movie. But even more amazing; you can create as many galleries you like! Read More...
Watch

Select a playlist and watch your movies play continuously in fullscreen. Or frame by frame or... well, why not start exploring all the possibilities!
Read More...
Share

Put all your movies on the web, with playlists, preview thumbnails, information and everything. Choose among beautifully designed templates. Share with friends who have mobile phones or broadband connections and everyone in between. Download today and explore the power of truly innovative and easy-to-use software for the moving world! Read More...